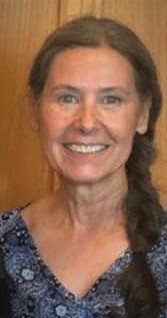 Instructor: Beth Fisher, RN, M .Ed., LMT, ACSM-EP (American College of Sports Medicine, Certified Exercise Physiologist)
Massage has always been a part of my life; as a child, I learned from and practiced many massage techniques with my grandmother. From the very beginning of my nursing career I incorporated massage into my practice of nursing. Disappointed that massage was not addressed in the nursing curriculum (even though it is included in the Nurse Practice Act) I sought additional training in massage therapy after graduation. I first learned basic techniques at workshops in Oregon in the 1970s, and later enrolled in a formal massage therapy program, becoming a Certified Massage Therapist in 1986. In 1985, I joined the staff of Memorial Hospital in Towanda, PA and helped to establish the Wellness department. For the next 26 years, as a "wellness educator" I had the enjoyable task of teaching community programs on fitness and health, creating and staffing stations for community and industrial health fairs, and providing massage therapy in the Wellness Center. My goal in retirement is to develop and participate in massage activities that promote (reinstate) massage therapy as a valuable practice in traditional medicine.
With over 150 different types of massage therapy, there is a tremendous opportunity within the field to specialize in techniques that uniquely fit the practitioner's style and interests. The focus of my post-graduate massage training has concentrated on two general areas: techniques to promote deep relaxation and techniques to improve posture and increase range of motion and flexibility.
Beth Ryan Fisher is approved by the National Certification Board for Therapeutic Massage & Bodywork (NCBTMB) as a continuing education Approved Provider and as a New York CE sponsored provider.