Look for these programs in the Southern Adirondacks in 2020!
These 4-6 hour CE seminars will coincide with community charity events or national massage events. The first part of each workshop will teach practical tips on massage samples for health fair settings; the second half will afford participants the opportunity to practice in an actual health fair.
Additionally, we will discuss the equipment needs (and choices) for each type of sample massage, sanitation, organization, supply lists, and how to use a community service event to not only educate the public about the benefits of massage, but also to market your practice. You are encouraged to have your promotional material available for distribution.
Part 1 - The Lower Body 4 CEs
Participants will learn a 5-10 minute massage/stretching routine to aid muscle recovery that can be accomplished over the client's clothing. The routine will be taught as a 4-Hand team technique but can easily be performed by one person for use in your practice.
Part 2 - Head, Hands, and Feet 4 CEs
Participants will learn techniques and guidelines for massage "samples" at social gatherings. Topics include "the Healing Pulse" energy facelift mini-massage technique, paraffin hand treatment, face to face hand massage with stretching, the use of the story massage format for children's hand and back massage, foot massage/treatments in a public setting.
Part 3 - Four-Hand Chair Massage Techniques 4CEs
Massage teams will learn a four-hand, 10-minute massage suitable for a massage station at a large gathering. Previous settings for this workshop have been at the Women in the Wild fundraiser for Mt Pisgah State Park, at a teaching day for the Family Medicine Department (topic: "Touch"), and at the Guthrie Employee Health Fair.
Part 4 - Mini-Spa Techniques 6 CEs
A mini-SPA Day provides a pampering experience for a small group. This workshop is one of the most popular offerings and has previously only been held for young Moms and Moms-to-be who are participating in the Nurse-Family Partnership. However, it would be ideal for a pre-wedding bridal party, etc. To keep the community service focus, the host would make a donation to the Nurse-Family Partnership or to a charity of his/her choice. Topics include mini facelift massages, hot stone foot massage, sugar scrub hand treatment, paraffin dips, and a discussion of massage and natural oils for the reduction of stretch marks. Dates to be announced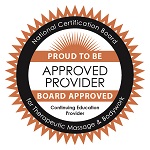 All Fireflies seminars are approved as New York CE Sponsored courses. When seminars are held in Pennsylvania, New York LMTs can participate because, while in the class, they are considered students.